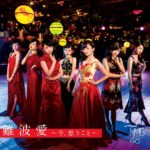 The new album of NMB48 will be released on August 2nd.
This is the third album of the idol group from Osaka ; It will be intitled Namba Ai -Ima, Omou Koto- (難波愛~今、思うこと~)
You will be able to find the 7 most recent singles of NMB48 as : Rashikunai, Don't look back, Durian Shounen, Must be now, Amagami Hime, Boku wa Inai and Boku Igai no Dareka. Songs in front of B singles will appear in this album.
Check out the MV for NMB48's new song Masaka Singapore.
The Type N, Type M and Type B editions come with a bonus DVD.
Tracklist
Regular Edition

CD

Masaka Singapore (まさかシンガポール)
Namba Ai (難波愛)
Boku wa Aisarete wa Inai (僕は愛されてはいない) (Shiroma Miru solo)
Boku Igai no Dareka (僕以外の誰か)
Boku wa Inai (僕はいない)
Amagami Hime (甘噛み姫)
Must be now
Durian Shounen (ドリアン少年)
Don't look back!
Rashikunai (らしくない)
365 Nichi no Kamihikouki (365日の紙飛行機) (Yamamoto Sayaka solo)
Short Cut no Natsu (ショートカットの夏) (Suto Ririka solo)
Priority (プライオリティー) (Kinoshita Momoka solo)
Asphalt no Namida (アスファルトの涙)
Tomodachi (友達) (by Yamada Nana & Yamamoto Sayaka)
Sotsugyou Ryokou (卒業旅行)
Niji no Tsukurikata (虹の作り方) (by Ota Yuuri, Shibuya Nagisa, Suto Ririka, Naiki Kokoro & Yabushita Shu)
Dotonbori yo, Nakasetekure! (道頓堀よ、泣かせてくれ!)
Type N

CD

Masaka Singapore (まさかシンガポール)
Namba Ai (難波愛)
Boku Igai no Dareka (僕以外の誰か)
Boku wa Inai (僕はいない)
Amagami Hime (甘噛み姫)
Must be now
Durian Shounen (ドリアン少年)
Don't look back!
Rashikunai (らしくない)
Kodoku Guitar (孤独ギター) (Team N)
Sora Kara Ai ga Futtekuru (空から愛が降って来る) (Team N)
Hakanai Monogatari (儚い物語) (Team N)
Kyuusen Kyoutei (休戦協定) (Team N)
Ren'ai Petenshi (恋愛ペテン師) (Team N)
Inochi no Heso (命のへそ) (Team N)
Yume ni Iro ga Nai Riyuu (夢に色がない理由) (Team N)
Mayonaka no Tsuyogari (真夜中の強がり)
Shigamitsuita Seishun (しがみついた青春)

DVD

Masaka Singapore (Music Video)
Masaka Singapore (Music Video Dancing Version)
Masaka Singapore (Music Video Making)
NMB48 MC Battle! ~NMB Love No.1 Tournament~ (NMB48 MCバトル! ~NMB愛 No.1決定戦~)
Type M

CD

Masaka Singapore (まさかシンガポール)
Namba Ai (難波愛)
Boku Igai no Dareka (僕以外の誰か)
Boku wa Inai (僕はいない)
Amagami Hime (甘噛み姫)
Must be now
Durian Shounen (ドリアン少年)
Don't look back!
Rashikunai (らしくない)
Koi wa Sainan (恋は災難) (Team M)
Saigo no Goshakudama (最後の五尺玉) (Team M)
Koi wo Isoge (恋を急げ) (Team M)
Migi ni Shiteru Ring (右にしてるリング) (Team M)
Heart, Sakebu. (ハート、叫ぶ。) (Team M)
Boku Dake no Secret time (僕だけのSecret time) (Team M)
Good-bye, Guitar (Team M)
Mayonaka no Tsuyogari (真夜中の強がり)
Shigamitsuita Seishun (しがみついた青春)

DVD

Masaka Singapore (Music Video)
Masaka Singapore (Music Video Dancing Version)
Masaka Singapore (Music Video Making)
It's Really Singapore!? (Singapore Flyer, River Cruise) (シンガポールでまさか!?(シンガポール フライヤー、リバークルーズ))
Type B

CD

Masaka Singapore (まさかシンガポール)
Namba Ai (難波愛)
Boku Igai no Dareka (僕以外の誰か)
Boku wa Inai (僕はいない)
Amagami Hime (甘噛み姫)
Must be now
Durian Shounen (ドリアン少年)
Don't look back!
Rashikunai (らしくない)
Let it snow! (Team BII)
Mousou Machine 3gouki (妄想マシーン3号機) (Team BII)
Ferry (フェリー) (Team BII)
Star ni Nante Naritakunai (スターになんてなりたくない) (Team BII)
Romantic Snow (ロマンティックスノー) (Team BII)
Kokoro no Moji wo Kake! (心の文字を書け!) (Team BII)
Kuufuku de Ren'ai wo Suruna (空腹で恋愛をするな) (Team BII)
Mayonaka no Tsuyogari (真夜中の強がり)
Shigamitsuita Seishun (しがみついた青春)

DVD

Masaka Singapore (Music Video)
Masaka Singapore (Music Video Dancing Version)
Masaka Singapore (Music Video Making)
It's Really Singapore!? (Merlion, Infinity Pool) (シンガポールでまさか!?(マーライオン、インフィニティプール))
Theater Edition

CD

Masaka Singapore (まさかシンガポール)
Namba Ai (難波愛)
Sa Sa Sa Saikou! (サササ サイコー!) (by Iwata Momoka, Umeyama Cocona, Jonishi Rei, Mizokawa Mirai, Yamada Suzu & Yamamoto Ayaka)
Boku Igai no Dareka (僕以外の誰か)
Boku wa Inai (僕はいない)
Amagami Hime (甘噛み姫)
Must be now
Durian Shounen (ドリアン少年)
Don't look back!
Rashikunai (らしくない)
Ima Naraba (今ならば) (SayaMilky)
Yume no Nagori (夢の名残り) (Watanabe Miyuki solo)
Taiyou ga Sakamichi wo Noboru Koro (太陽が坂道を昇る頃) (Kenkyuusei)
Tochuugesha (途中下車) (Umeyama Cocona, Kawakami Rena, Jonishi Kei, Jonishi Rei, Suto Ririka, Hayashi Momoka, Yoshida Akari)
Nietzsche Senpai (ニーチェ先輩) (Namba Teppoutai Sono Roku)
Sayonara, Kakato wo Fumu Hito (サヨナラ、踵を踏む人) (Namba Teppoutai Sono Nana)
Doudemo Ii Hito Kamen (どうでもいい人仮面)
Kataomoi Yori mo Omoide wo… (片想いよりも思い出を…)
Music Video (PV)