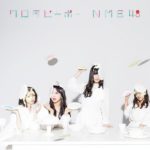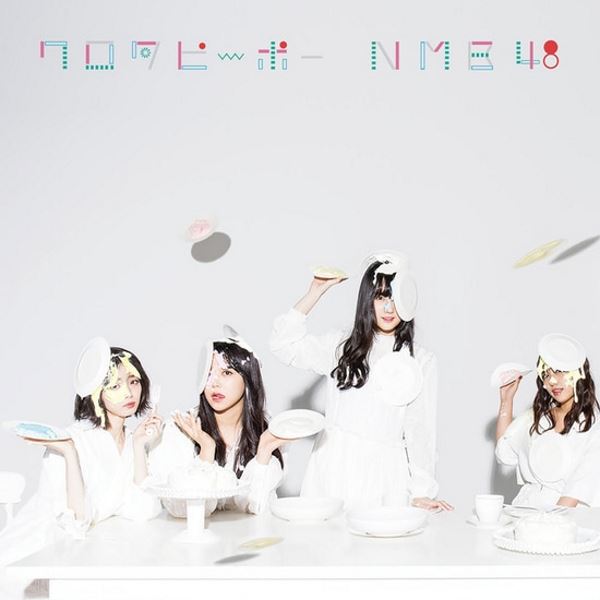 The new single Warota People (ワロタピーポー) of NMB48 will be released on December 27th.
This is the 17th single by NMB48.
The selected members (senbatsu) are: Ichikawa Miori, Tanigawa Airi, Yamamoto Ayaka, Yamamoto Sayaka, Iwata Momoka, Kato Yuuka, Shibuya Nagisa, Shiroma Miru, Yoshida Akari, Uemura Azusa, Ota Yuuri, Okita Ayaka, Jo Eriko, Jonishi Rei, Murase Sae and Yagura Fuuko.
The girl who has the center position on this single is Shiroma Miru.
Several editions will be available.
Check out the video clips below.
Tracklist
Type A

CD

Warota People (ワロタピーポー)
Jibun no Iro (自分の色) / 2nd Generation
Doko ka de Kiss wo (どこかでキスを) / Team N
Warota People (off-vocal)
Jibun no Iro (off-vocal)
Doko ka de Kiss wo (off-vocal)

DVD

Warota People (Music Video)
Warota People (Dance Ver.)
Doko ka de Kiss wo (Music Video)
Doko ka de Kiss wo (Making Of)
NMB48 ARENA TOUR 2017 @ Osaka Hall (2017.10.12) Part 1
Type B

CD

Warota People (ワロタピーポー)
Jibun no Iro (自分の色) / 2nd Generation
Hontou no Jibun no Kyoukaisen (本当の自分の境界線) / Team M
Warota People (off-vocal)
Jibun no Iro (off-vocal)
Hontou no Jibun no Kyoukaisen (off-vocal)

DVD

Warota People (Music Video)
Warota People (Dance Ver.)
Hontou no Jibun no Kyoukaisen (Music Video)
Hontou no Jibun no Kyoukaisen (Making Of)
NMB48 ARENA TOUR 2017 @ Osaka Hall (2017.10.12) Part 2
Type C

CD

Warota People (ワロタピーポー)
Jibun no Iro (自分の色) / 2nd Generation
Futsuu no Mizu (普通の水) / Team BII
Warota People (off-vocal)
Jibun no Iro (off-vocal)
Futsuu no Mizu (off-vocal)

DVD

Warota People (Music Video)
Warota People (Dance Ver.)
Futsuu no Mizu (Music Video)
Futsuu no Mizu (Making Of)
NMB48 ARENA TOUR 2017 @ Osaka Hall (2017.10.12) Part 3
Type D

CD

Warota People (ワロタピーポー)
Jibun no Iro (自分の色) / 2nd Generation
Which one
Warota People (off-vocal)
Jibun no Iro (off-vocal)
Which one (off-vocal)

DVD

Warota People (Music Video)
Warota People (Dance Ver.)
Which one (Music Video)
Which one (Making Of)
Warota People (Music Video and Jacket Making Of)
Theater Edition

CD

Warota People (ワロタピーポー)
Jibun no Iro (自分の色) / 2nd Generation
Mou Ichido, Hashiridashite Miyou ka? (もう一度、走り出してみようか?) / Jo Eriko
Warota People (off-vocal)
Jibun no Iro (off-vocal)
Mou Ichido, Hashiridashite Miyou ka? (off-vocal)
Music Video (PV)