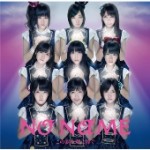 No Name's 2nd single Kono Namida wo Kimi ni Sasagu (この涙を君に捧ぐ) will be released on April 10.
The single includes the opening and the ending themes for the anime series AKB0048 Next Stage.
It comes with a photo randomly selected from 9 kinds.
The CD+DVD editions include a bonus disc featuring music video, making-of, and other bonus video footage.
No Name consists of AKB48's Watanabe Mayu, Nakaya Sayaka, Sato Amina, Ishida Haruka, Sato Sumire, Iwata Karen, SKE48's Yagami Kumi, Hata Sawako, and NMB48's Mita Mao.
Type A
CD

Kono Namida wo Kimi ni Sasagu (この涙を君に捧ぐ)
Omo Naki Sono Koe (主なきその声)
Shoujotachi yo (少女たちよ) (No Name Ver.)
Kono Namida wo Kimi ni Sasagu (この涙を君に捧ぐ) (Instrumental)
Omo Naki Sono Koe (主なきその声) (Instrumental)
Shoujotachi yo (少女たちよ) (No Name Ver.) (Instrumental)
DVD

Kono Namida wo Kimi ni Sasagu (この涙を君に捧ぐ) (Music Video)
Kono Namida wo Kimi ni Sasagu (この涙を君に捧ぐ) (Making of)
Other bonus video footage (特典映像 ほか)
Type B
CD

Kono Namida wo Kimi ni Sasagu (この涙を君に捧ぐ)
Omo Naki Sono Koe (主なきその声)
Oogoe Diamond (大声ダイヤモンド) (No Name Ver.)
Kono Namida wo Kimi ni Sasagu (この涙を君に捧ぐ) (Instrumental)
Omo Naki Sono Koe (主なきその声) (Instrumental)
Oogoe Diamond (大声ダイヤモンド) (No Name Ver.) (Instrumental)
DVD

Kono Namida wo Kimi ni Sasagu (この涙を君に捧ぐ) (Music Video)
Kono Namida wo Kimi ni Sasagu (この涙を君に捧ぐ) (Making of)
Other bonus video footage (特典映像 ほか)
Type C
CD

Kono Namida wo Kimi ni Sasagu (この涙を君に捧ぐ)
Omo Naki Sono Koe (主なきその声)
Shonichi (初日) (No Name Ver.)
Drama CD 1 (ドラマCD-1 (仮))
Type D
CD

Kono Namida wo Kimi ni Sasagu (この涙を君に捧ぐ)
Omo Naki Sono Koe (主なきその声)
Temodemo no Namida (てもでもの涙) (No Name Ver.)
Drama CD 2 (ドラマCD-2 (仮))