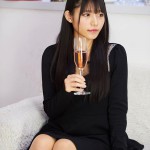 Noda Hitomi (Ready to Kiss) is starring in an online commercial for Shonan Trading's non-alcoholic sparkling wine Duc de Montagne Rose. The company is based in Yokohama.
Noda Hitomi looks adorable and is ready to kiss you in the video that you can watch below.
The CM song is Ready to Kiss' major debut single Top Secret ~Setsunai Gokuhi Jikou~ (トップシークレット ~切ない極秘事項~) .
Noda Hitomi is a member of Ready to Kiss. The idol group's catchphrase is "filling the world with kisses". Her nickname is Hitomin and her image color is purple. She was born on August 10, 1995 in Chiba.
What happens when an idol tastes the non-alcoholic Duc de Montagne's sweetness ? That makes her want to kiss. Check out the video of episode 6.
In addition to the commercial, don't miss Hitomin's photos and testimonies about Duc de Montagne on Wine Mellow, an online magazine published by Shonan Trading to promote the non-alcoholic wine lifestyle called "Mellow".
A survey, conducted last November, showed that 33% of readers are the most concerned about the effects of alcohol the moment they are about to kiss someone. To address this, Shonan Trading has created a series of 6 online commercials promoting the drink.
Episode 1 : Deliciousness that makes you want to dance
Episode 2 : Deliciousness that you want to keep all for yourself
Episode 3 : Deliciousness that makes idols want to dance (with Starmarie)
Episode 4 : Deliciousness that makes you want to spread the word
Episode 5 : Deliciousness that matches every situation