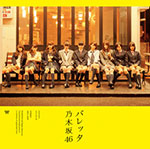 Nogizaka46's 7th single Barrette (バレッタ) will be released on November 27.
5 editions are available. The center is the 2nd generation member Hori Miona.
The coupling track Tsuki no Ookisa (月の大きさ) is the opening theme song for the anime Naruto Shippuden (ナルト 疾風伝).
The limited editions include a DVD with the music videos and bonus footage featuring each member of Nogizaka46.
Check out the list of the selected members and the PVs.
Senbatsu Members
Akimoto Manatsu, Ikuta Erika, Ikoma Rina, Itou Marika, Eto Misa, Kawago Hina, Saito Asuka, Sakurai Reika, Shiraishi Mai, Takayama Kazumi, Nakamoto Himeka, Nishino Nanase, Hashimoto Nanami, Fukagawa Mai, Matsumura Sayuri, Wakatsuki Yumi, Hori Miona
Tracklist
Regular Edition
CD

Barrette (バレッタ)
Tsuki no Ookisa (月の大きさ)
Yasashisa to wa (やさしさとは)
Barrette (バレッタ) (Instrumental)
Tsuki no Ookisa (月の大きさ) (Instrumental)
Yasashisa to wa (やさしさとは) (Instrumental)
Type A
CD

Barrette (バレッタ)
Tsuki no Ookisa (月の大きさ)
Watashi no Tame ni Dareka no Tame ni (私のために 誰かのために)
Barrette (バレッタ) (Instrumental)
Tsuki no Ookisa (月の大きさ) (Instrumental)
Watashi no Tame ni Dareka no Tame ni (私のために 誰かのために) (Instrumental)
DVD

Barrette (バレッタ) (Music Video)
Tsuki no Ookisa (月の大きさ) (Music Video)
Bonus Footage
Type B
CD

Barrette (バレッタ)
Tsuki no Ookisa (月の大きさ)
Sonna Baka na… (そんなバカな・・・)
Barrette (バレッタ) (Instrumental)
Tsuki no Ookisa (月の大きさ) (Instrumental)
Sonna Baka na… (そんなバカな・・・) (Instrumental)
DVD

Barrette (バレッタ) (Music Video)
Sonna Baka na… (そんなバカな・・・) (Music Video)
Bonus Footage
Type C
CD

Barrette (バレッタ)
Tsuki no Ookisa (月の大きさ)
Hatsukoi no Hito wo Ima Demo (初恋の人を今でも)
Barrette (バレッタ) (Instrumental)
Tsuki no Ookisa (月の大きさ) (Instrumental)
Hatsukoi no Hito wo Ima Demo (初恋の人を今でも) (Instrumental)
DVD

Barrette (バレッタ) (Music Video)
Hatsukoi no Hito wo Ima Demo (初恋の人を今でも) (Music Video)
Bonus Footage
Anime Edition
CD

Barrette (バレッタ)
Tsuki no Ookisa (月の大きさ)
Tsuki no Ookisa ~Anime Version~ (月の大きさ~アニメ版~)
Barrette (バレッタ) (Instrumental)
Tsuki no Ookisa (月の大きさ) (Instrumental)
Music Video (PV)