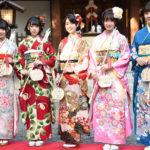 Nogizaka46 members Ikuta Erika, Kitano Hinako, Saito Chiharu, Nakamoto Himeka and Hori Miona held their coming-of-age ceremony (成人式, seijin shiki).
The ceremony took place on January 7 at Nogi Shrine in Tokyo. The 5 members of the idol group, who were born in 1996 and in early 1997, were wearing beautiful kimonos and holding Japanese traditional accessories.
Check out some photos of the event.
Ikuta Erika, Saito Chiharu and Nakamoto Himeka are part of the 1st generation of Nogizaka46.
Kitano Hinako and Hori Miona belong to the 2nd generation.
The coming-of-age ceremony is reserved to those who reached 20 years old, which is the age of majority in Japan, over the past year.