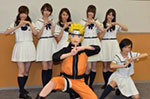 Nogizaka46 will perform the new opening theme song for the anime series Naruto Shippuden (ナルト 疾風伝).
The song is titled Tsuki no Ookisa (月の大きさ).
It will appear for the first time on the episode which will be broadcast on October 3 on TV Tokyo (テレビ東京).
In addition, on August 28, 6 members of Nogizaka46 (Ikoma Rina, Sakurai Reika, Hashimoto Nanami, Nishino Nanase, Matsumura Sayuri, Wakatsuki Yumi) have formed a new unit named Naruzaka46 (ナル坂46) and have become official supporters of Naruto.
Furthermore, Nogizaka46 will release their 7th single on November 27.