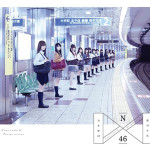 Nogizaka46's 1st album Toumei na Iro (透明な色) will be released on January 7.
This album includes the first 10 singles of Nogizaka46.
Disc 2 contains 10 songs chosen by fans among the coupling songs of the idol group. The results of the vote were announced during their Christmas concert.
Type A edition comes with a live DVD featuring a video of  Nogizaka46 concert Manatsu no Zenkoku Tour 2013 Final! held at Yoyogi National Gymnasium on October 6, 2013.
Tracklist
CD 1

Overture
Guruguru Curtain (ぐるぐるカーテン)
Oide Shampoo (おいでシャンプー)
Hashire! Bicycle (走れ! Bicycle)
Seifuku no Mannequin (制服のマネキン)
Kimi no Na wa Kibou (君の名は希望)
Girl's Rule (ガールズルール)
Barrette (バレッタ)
Kizuitara Kataomoi (気づいたら片思い)
Natsu no Free & Easy (夏のFree&Easy)
Nandome no Aozora ka? (何度目の青空か?)
Dareka wa Mikata (誰かは味方)
Kakumei no Uma (革命の馬)
Boku ga Iru Basho (僕がいる場所)
Anata no Tame ni Hikitai (あなたのために弾きたい)

CD 2

Danke Schön (ダンケシェーン)
Ushinaitakunai Kara (失いたくないから)
13-nichi no Kinyoubi (13日の金曜日)
Ano Hi Boku wa Tossa ni Uso wo Tsuita (あの日 僕は咄嗟に嘘をついた)
Sekai de Ichiban Kodoku na Lover (世界で一番孤独なLover)
Muguchi na Lion (無口なライオン)
Namida ga Mada Kanashimi datta Koro (涙がまだ悲しみだった頃)
Sekkachi na Katatsumuri (せっかちなかたつむり)
Watashi no Tame ni Dareka no Tame ni (私のために 誰かのために)
Hoka no Hoshi Kara (他の星から)
Keisha Suru (傾斜する)
Nazo no Rakugaki (なぞの落書き)
Jiyuu no Kanata (自由の彼方)
Hitori Yogari (ひとりよがり)

DVD

"Manatsu no Zenkoku Tour 2013 Final!" @ Yoyogi National Gymnasium (2013.10.6) Digest Video ("真夏の全国ツアー2013 Final!"@代々木第一体育馆(2013.10.6)ダイジェスト映像収录)