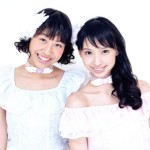 N☆RNiR's song JJ is going to be the ending theme for the show Majo ni Iwaretai Yoru ~Shoujiki Sugiru Shinasadame~ (魔女に言われたい夜~正直過ぎる品定め~) airing on Fuji TV in December and in January.
In order to commemorate their major debut, 3D figures of N☆RNiR members Tsurumaki Seina and Ebihara Airi have been created in collaboration with Panasonic 3D poto lab.
The sale of the figures of the idol group is planned in the near future. You can see a picture of the item below.
N☆RNiR <ノニエル> single JJ ranked 19th on the Oricon daily chart.