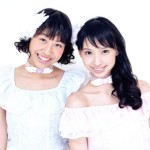 N☆RNiR (ノニエル) will release their new single JJ on October 21st.
This is the major label debut single of N☆RNiR, pronounced "NoRNiR", under Crown Tokuma.
The song was written by Yamazaki Yo, who is known for being the composer of AKB48's Heavy Rotation.
Check out the video recorded during a live performance of the idol group at Shibuya Club Quattro.
3 editions are available. The coupling song is different for each CD.
Furthermore, Tsuchiyama Sana announced her graduation from N☆RNiR in the beginning of October.
The idol group is now consisting of 2 regular members, Tsurumaki Seina and Ebihara Airi, and 2 support members, Imai Ami et Imai Chisa.
Tracklist
Happy

JJ
Kono Mune Ippai no Happy (この胸いっぱいのHappy)
Just Now

JJ
Ima Kita Bakkari (今来たばっかり)
Video (Live)