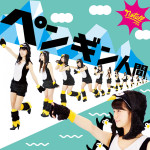 notall's 1st mini-album Penguin Ningen (ペンギン人間) will be released on February 25.
This best-of album features 6 tracks including 5 songs from notall's latest digital singles a new one.
Check out the music video.
Koi no Sumasokura, Ready Girl and Penguin Ningen were ranked 1st on J-Pop Amazon best-seller ranking in Japan.
The 4 members of the idol group are wearing cute penguin costumes on the music video and on the CD cover.
notall is a social idol group. The girls collaborate with their fans through social networks for their various activities.
Tracklist
Penguin Ningen (ペンギン人間)
Ready Girl
Koi no Sumasokura (恋のスマソークラ)
Tokimeki Latte Art (トキメキラテアート)
Boku no Kakera (ボクのカケラ)
Mirai Chikyugi (ミライ地球儀)
Music Video (PV)