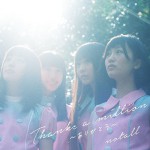 notall's new single Thanks a Million ~Arigatou~ (~ありがとう~) will be released on March 8th.
The lyrics were written by the members of the idol group and fans, and selected after a vote on social networks.
In addition, notall launched a campaign on Instagram.
This campaign is running from February 26th to March 31. 50 people, who follow the official account of notall and have posted a picture on Instagram with the hashtag #thanksamillionありがとう, will win presents (iTunes card, CD, clear file…). However, applicants to the lottery must reside in Japan.
This song is the first ballad by notall.
The music was composed by Kobayashi Takashi arranged by sound producer Kubo Koji.
The single is already available for download on iTunes.
Tracklist
Thanks a Million ~Arigatou~
Happy Days
Usagi Tsunderera (ウサギツンデレラ)
Music Video (PV)