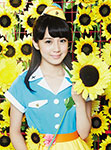 Okunaka Makoto announced her graduation from Passpo☆. She will leave the idol group after the final live performance of  their concert tour on January 1, 2015.
Okunaka Makoto explained that she wanted to pursue her solo career as an actress.
Makocchan posted her graduation message on YouTube.
She also made herself the announcement on September 28 during Passpo☆ live performance at Shinjuku Blaze, Tokyo. This event celebrated the 5th anniversary of the idol group.
Okunaka Makoto joined Passpo☆ in 2009. As an actress, she was also the heroine of Kamen Rider Wizard (仮面ライダーウィザード) in 2012.