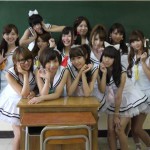 Onnajuku All Stars (女塾オールスターズ) is a Japanese idol group formed in 2014.
It currently consists of 12 members.
Biography / History
Onnajuku All Stars (女塾オールスターズ) was created in 2014 to participate in Nukegake! Onnajuku (抜け駆け!女塾) internet program.
They hold a live performance every month in Tokyo.
The idol group is managed by comedy duo 2700. Yasoshima Hiroyuki is the producer and songwriter. Tsunemichi Hiroshi is the assistant producer, and is in charge of choreography.
Akita Kazue, Shinahama Saemi, Kojo Seara, Kouchi Masami and Urano Kazumi are former SDN48 members.
Urano Kazumi was also part of AKB48.
Homerun Namichi made her solo debut in 2012.
Cyborg Kaori is a former representative of Jissen Women's University A Cappella Circle JAC (実践女子アカペラサークルJAC).
Kurosawa Mirei and Morisaki Mami are former Super GT Race Queen (Super GTレースクイーン).
Miku Doll Charlotte is a member of Afilia Saga (アフィリア・サーガ).
Arakawa Yuna and Funaki Saori are part of Akishibu Project (アキシブproject).
Onnajuku All Stars' major debut single Waki wo Minaide (脇を見ないで) is going to be released in August 2015.
The first goal of the idol group is to reach the top 10 on Oricon chart.
Profile
Onnajuku All Stars (女塾オールスターズ)
Years active : 2014 – present
Label : Stand-Up! Records
Agency : JUMPs
Members
Akita Kazue (穐田和恵)
Shinahama Saemi (尻無浜冴美)
Kojo Seara (光上せあら)
Kouchi Masami (河内麻沙美)
Homerun Namichi (ホームランなみち)
Cyborg Kaori
Kurosawa Mirei (黒沢美怜)
Morisaki Mami (森崎まみ)
Urano Kazumi (浦野一美)
Miku Doll Charlotte (ミク・ドール・シャルロット)
Arakawa Yuna (荒川優那)
Funaki Saori (船木沙織)
Discography
Singles
05/08/2015 : Waki wo Minaide (脇を見ないで)
Albums
Links
News