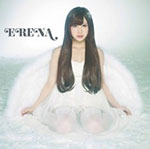 Ono Erena's 1st solo album Erena will be released on June 19.
The album includes Ono Erena's latest singles and 8 original songs.
The regular edition contains 2 bonus tracks.
The limited edition Type A comes a DVD featuring the music video and a documentary with live concert footage, interview…
The limited edition Type B contains a 2nd CD including 9 songs from Nico Nico Douga.
Regular Edition
CD

Erepyon (えれぴょん)
Kimi ga ano Hi Waratteita Imi wo (君があの日笑っていた意味を。)
Erena
Ribbon
Fighting☆Hero (ファイティング☆ヒーロー)
Hitori (ひとり)
Starry Sky
Sunao (素直)
Kiji no Kakaru Sora ni… (のかかる空に…)
Erenyan (えれにゃん)
Say!! Ippai (Say!!いっぱい)
Koi Rhythm (恋リズム)
Happy Time
Limited Edition Type A
CD

Erepyon (えれぴょん)
Kimi ga ano Hi Waratteita Imi wo (君があの日笑っていた意味を。)
Erena
Ribbon
Hitori (ひとり)
Starry Sky
Sunao (素直)
Kiji no Kakaru Sora ni… (のかかる空に…)
Erenyan (えれにゃん)
Koi Rhythm (恋リズム)
Happy Time
DVD

Erena (Music Video)
Erena (Documentary)
Limited Edition Type B
CD1

Erepyon (えれぴょん)
Kimi ga ano Hi Waratteita Imi wo (君があの日笑っていた意味を。)
Erena
Ribbon
Hitori (ひとり)
Starry Sky
Sunao (素直)
Kiji no Kakaru Sora ni… (のかかる空に…)
Erenyan (えれにゃん)
Koi Rhythm (恋リズム)
Happy Time
CD2

Twitter
Senbonzakura (千本桜)
Aa, Subarashiki Nyan Sei (嗚呼、素晴らしきニャン生)
Renai Yuusha (恋愛勇者)
Happy Tune (ハッピーチューン)
Eretika (エレティカ)
Romeo to Cinderella (ロミオとシンデレラ)
Nonaidenpa (ノーナイデンパ)
Tokyo Teddy Bear (東京テディベア)
Music Video