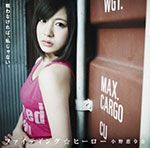 Ono Erena's new single Fighting Hero (ファイティング☆ヒーロー) will be released on May 29.
It is the theme song for the drama Tank Top Fighter (タンクトップファイター) starring Ono Erena (former AKB48) and Kawashima Umika (9nine).
The regular edition contains only the title song and its instrumental version.
The limited editions includes a different bonus track for each type. They also come with a DVD featuring the music video, making-of, and other footage.
Regular Edition
CD

Fighting☆Hero (ファイティング☆ヒーロー)
Fighting☆Hero (ファイティング☆ヒーロー) (Instrumental)
Limited Edition Type A
CD

Fighting☆Hero (ファイティング☆ヒーロー)
Tenshi no Himitsu (天使のヒミツ)
Fighting☆Hero (ファイティング☆ヒーロー) (Instrumental)
Tenshi no Himitsu (天使のヒミツ) (Instrumental)
DVD

Fighting☆Hero (ファイティング☆ヒーロー) (Music Video)
Fighting☆Hero (ファイティング☆ヒーロー) (Making of)
Limited Edition Type B
CD

Fighting☆Hero (ファイティング☆ヒーロー)
Happy Tune (ハッピーチューン)
Fighting☆Hero (ファイティング☆ヒーロー) (Instrumental)
Happy Tune (ハッピーチューン) (Instrumental)
Limited Edition Type C
CD

Fighting☆Hero (ファイティング☆ヒーロー)
Matteita no (待っていたの)
Fighting☆Hero (ファイティング☆ヒーロー) (Instrumental)
Matteita no (待っていたの) (Instrumental)
Music Video
Original Version
Drama Version