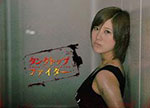 The drama Tank Top Fighter (タンクトップファイター) starring Ono Erena (ex AKB48) and Kawashima Umika (9nine) was released on DVD on September 6.
Tank Top Fighter is a action / suspense drama. Ono Erena plays the role of college student named Kai. Kawashima Umika plays her sister Riku.
Kai and Riku become bounty hunters chasing after 4 criminals in order to free their father who was arrested for murder and robbery.
The theme song Fighting Hero (ファイティング☆ヒーロー) is performed by Ono Erena.
The DVD includes a booklet, a message card, and a postcard.