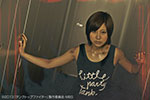 Ono Erena (ex AKB48) will be starring in the drama Tank Top Fighter (タンクトップファイター).
Tank Top Fighter is a action/suspense drama. Ono Erena will play the role of college student named Kai. Kai and her sister, Riku (played by Kawashima Umika),  become bounty hunters chasing after 4 criminals in order to free their father.
Ono Erena will also perform the theme song for the drama.
Tank Top Fighter will start airing in April on TBS and MBS.
Ono Erena's 4th single Kimi ga Ano Hi Waratteita Imi wo will be released on March 6.