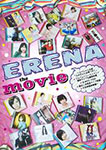 Ono Erena (ex AKB48) released the DVD Erena The Movie on September 25.
This DVD celebrates the 1st anniversary of the solo debut of Ono Erena.
It includes footage of her trip Erepyon Taiwan e Iku (えれぴょん台湾へ行く), the live performance held for the release of her 1st  album Erena, and a collection of music videos.
Tracklist
Erepyon (えれぴょん)
Erenyan (えれにゃん)
Say!! Ippai (Say!!いっぱい)
Kimi ga ano Hi Waratteita Imi wo (君があの日笑っていた意味を。)
Fighting Hero (ファイティング☆ヒーロー)
Erena
Koi Rhythm (恋リズム)
Happy Time
Miseru Come True
Renai Yuusha (恋愛勇者)
Futari (ふたり)
Erepyon (えれぴょん) (Music Video)
Kimi ga Ireba… (キミがいれば…) (Music Video)
Erenyan (えれにゃん) (Music Video)
Aa, Subarashiki Nyan Sei (嗚呼、素晴らしきニャン生) (Music Video)
Say!! Ippai (Say!!いっぱい) (Music Video)
Kimi ga ano Hi Waratteita Imi wo (君があの日笑っていた意味を。) (Music Video)
Fighting Hero (ファイティング☆ヒーロー) (Music Video)
Erena (Music Video)