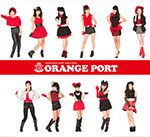 Orange Port (オレンジポート) is a Japanese idol group formed in August 2012.
It currently consists of 10 members. Each one has been assigned a number.
The idol unit is based in the city of Numazu in Shizuoka Prefecture.
They are produced by Yanagiman who worked with famous artists such as Ketsumeishi, Funkey Monkey Babys, Kato Miliyah, The Gospellers…
Biography / History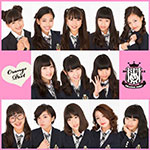 The audition was held in August 2012. The members have been selected among 130 applicants.
Orange Port hold regular live performances in Shizuoka East Area.
Their 1st album Go with You… Soshite Arigatou (Go with You…そしてありがとう。) was released in February 2013.
The idol group released the single With U / Yell in February 2014. It is the officiel theme song for Yudai company.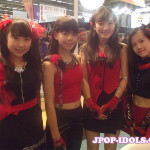 Orange Port participated in Japan Expo in Paris Nord Villepinte, France, in July 2014. Check out our live report and our interview with Ishida Yuyu.
Takiguchi Natsuho announced her graduation in August 2014. She was not able to go to France due to poor physical health.
Ishida Yuyu graduated in May 2015.
The idol group takes part in Welcome to Japan Project since May 2015. They promote local products from their region and Japanese popular culture worldwide.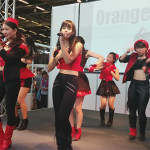 Orange Port were back to France at Japan Expo 2015 in July. Check out our photos and videos of the event.
They performed at the 2015 Comic Exhibition in Taiwan in August 2015.
Profile
Orange Port (オレンジポート)
Years active : 2012 – present
Label : FMF Records
Agency : Fujiyama Music Factory
Members
Koike Hime (小池 姫) – No.1
Tamura Honoka (田村帆野佳) – No.2
Watanabe Yuuna (渡辺結菜) – No.3
Nagano Minami (長野みなみ) – No.4
Masaoka Rino (正岡紫野) – No.5
Koike Shuri (小池珠璃) – No.6
Sumiya Ayu (住谷愛癒) – No.8
Yamada Akiho (山田青雅星) – No.9
Tsuyuki Juri (露木樹里) – No.11
Nagai Moeko (永井萌子) – No.12
Former members
Suzuki Hikaru (鈴木輝)
Takiguchi Natsuho (滝口夏帆)
Ishida Yuyu (石田結々)
Discography
Singles
23/02/2014 : With U / Yell
Albums
23/02/2013 : Go with You… Soshite Arigatou (Go with You……そしてありがとう。)
Links
News