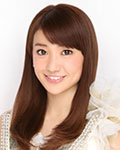 Oshima Yuko announced her graduation from AKB48. She will continue her solo activities.
It was a surprise for everyone as she hadn't told anything about it to other members of AKB48.
The announcement was made at the 64th NHK Kouhaku Uta Gassen 2013 (第64回NHK紅白歌合戦) on December 31.
Details on her graduation ceremony haven't been revealed yet.
Oshima Yuko joined AKB48 in 2006. She is one of the leaders of the idol group from Akihabara and the current captain of Team K.