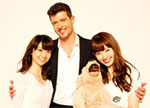 AKB48 members Oshima Yuko and Kojima Haruna performed in a special version of the music video of the hit Blurred Lines from Robin Thicke.
This collaboration between AKB48 and the American singer Robin Thicke is a parody of the original video clip. The song Blurred Lines topped the charts for 12 weeks in USA.
This Japanese version was made by Universal Music Japan.
Check out the video.
Music Video (PV)