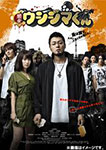 Yamikin Ujishima-kun (闇金ウシジマくん) movie starring Oshima Yuko (AKB48) will be released on DVD on February 8 and on Blu-ray on February 27.
Oshima Yuko plays the role of Suzuki Miko, a girl who has to work in a 'dating cafe' in order to to pay her mother's debt. She is chased for it by Ujishima who makes illegal loans.
The film is based on the manga of the same title.
The DVD comes with a bonus disc and a booklet.
Yamikin Ujishima-kun (Trailer)