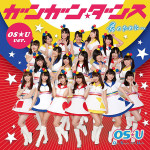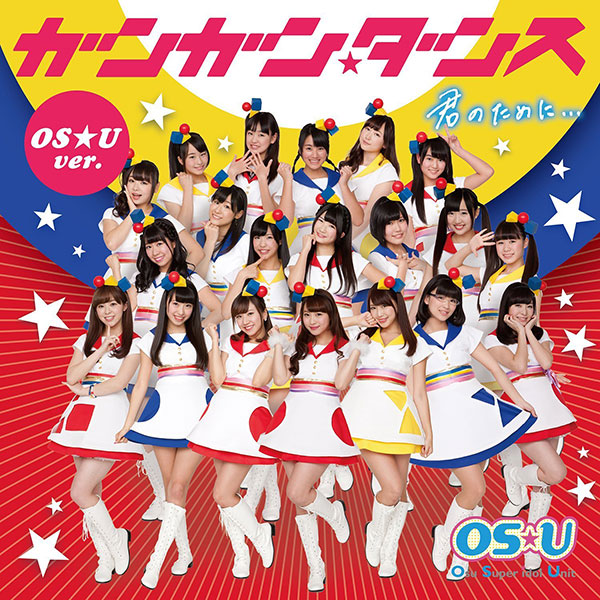 OS☆U's new single Gangan Dance / Kimi no Tame ni… (ガンガン☆ダンス / 君のために…) will be released on March 18.
This is the 11th single by OS☆U (Osu Super Idol Unit), a local idol group from Nagoya.
This CD marks their major debut. It is a double A-side.
The music video has been unveiled.
It is a catchy dance pop song.
Gangan Dance will be the theme song for the shows Music ピーパーTV and なないろDream TV airing on CBC.
The lyrics of the lead song were written by M. Koide (I.Y.O). The music was composed by Kenny, Hidetoshi Kato and Hiro.
Teams O, S, U, ☆ were created in January 2015. They consist of members from the 1st to the 5th generation of the idol group. There is a version of the CD for each one of them.
The MV was directed by Kageyama Nobuaki (Magical Co Ltd). It was produced by Ichihara Kimiko. The photographer is Fujita Mitsuru.
Tracklist
Gangan Dance (ガンガン☆ダンス)
Kimi no Tame ni… (君のために…)
Love Is All ~Tsunagaru "Arigatou" (Love is All ~つながる「ありがとう」)
Gangan Dance (Team O / S / U / ☆ ver.)
Gangan Dance (Instrumental)
Kimi no Tame ni… (Instrumental)
Music Video (PV)