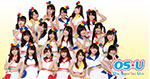 OS☆U (Osu Super Idol Unit) is a Japanese idol group formed in August 2010.
It currently consists of 20 members.
They are split into 4 teams.
The unit is based in Nagoya, Aichi Prefecture.
Biography / History
The concept of the idol group comes from Osu (大須) shopping street in Nagoya. They represent pop culture among young people with themes like anime, maid, otaku…
OS☆U made their live debut in August 2010.
Their 1st single Kiss! Kiss!! ~Chizu ni nai Michishirube~ (kiss!kiss!! 〜地図にない道標〜) was released in October 2010.
The girls started to expand their activities to other areas in 2011.
OS☆U was finalist of the U.M.U. Award 2011. They were in competition against other local Japanese idol groups.
The idol group performed the tie-up song for the Aonami Line (あおなみ線) in April 2012. This railway line connects Nagoya Station with Kinjo-Futo Station.
The girls were appointed as Play! Aichi Correspondent (特派員) in July 2012. They were in charge of public relations to promote Aichi Prefecture.
The members of OS☆U were appointed as ambassadors and performed the theme song for Aichi Red Cross Blood Center in early 2013.
Pop☆Star and Smile☆Star teams were created in April 2013.
They were reshuffled as Platinum☆Stars and Golden★Stars in May 2013.
A 3rd team was added in August 2013 when the 5th generation members joined the unit.
OS☆U ranked 1st at the "Amachan" Map Nationwide Local Idol Ranking Battle (NHKオンデマンド全国『あまちゃん』マップ全国ご当地アイドルランキングバトル) in December 2013. The contest was based upon the popular drama Amachan. Other local idol groups like LinQ, Hime Kyun Fruit Can… participated in the competition. As a result, OS☆U became the image character for NHK On Demand in 2014.
Ban Kanami is also an actress. She acted in the stage plays Changing Hotel (チェンジング☆ホテル), Sengoku Kourin Girl (戦国降臨ガール), Meitantei Hajimemashita (名探偵はじめました) and Alice in Paradox (アリスインパラドックス).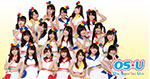 In January 2015, the former teams were replaced by new ones names O, S, U, ☆ (star).
They are going to make their major debut with the single Gangan Dance / Kimi no Tame ni… (ガンガン☆ダンス / 君のために…) which will be released in March 2015. It will be the theme song for the shows Music ピーパーTV and なないろDream TV airing on CBC.
Profile
OS☆U (Osu Super Idol Unit)
Years active : 2010 – present
Label : Nigiwai Factory Nagoya, I.Y.O.
Agency : Nigiwai Factory Nagoya
Members
Team O
Kiyosato Chisei (清里千聖)
Asakura Makoto (朝倉真琴)
Saito Megu (斉藤萌)
Mochizuki Ayano (望月綾乃)
Hoshino Maria (星野麻里愛)
Team S
Takahashi Moe (高橋萌)
Yasumi Eiko (八角瑛子)
Miwa Asuka (美和明日香)
Araki Miho (荒木美穂)
Watanabe Yuki (渡辺友貴)
Team U
Ban Kanami (伴かなみ)
Morisaki Tomomi (森咲智美)
Chono Masami (蝶野晶美)
Ono Saki (大野咲貴)
Naruse Mika (成瀬未佳)
Kai Ayaka (甲斐彩花)
Team ☆
Wakasugi Rin (若杉凜)
Koda Mei (香田メイ)
Kato Ayu (加藤亜優)
Oshima Risa (大島梨紗)
Former Members
Yokochi Shiho (横地志保)
Fujita Mai (藤田まい)
Ono Yuuki (小野勇気)
Inudo Rino (犬童梨乃)
Kaji Miki (梶美希)
Okajima Riko (岡島里恋)
Komoto Hikari (甲本ヒカリ)
Usuda Mizuki (臼田瑞姫)
Himuro Nodoka (氷室のどか)
Nagasawa Catherine Masako (長澤キャサリン雅子)
Hijikata Erika (土方瑛里香)
Tamaki Aya (玉置亜弥)
Sakuragi Mai (桜木まい)
Usami Sayaka (宇佐美沙耶香)
Toda Reika (戸田玲香)
Discography
Singles
16/10/2010 : Kiss! Kiss!! ~Chizu ni nai Michishirube~ (kiss!kiss!! 〜地図にない道標〜)
14/12/2010 : Merry Christmas!!
15/03/2011 : Girls☆Girls Talk!
25/06/2011 : Surfing Striker
15/04/2012 : Dame Moto Love (ダメもとLove)
05/12/2012 : A-Girl
20/03/2013 : We are OS☆U / Ai no Katachi (アイのカタチ)
29/03/2014 : Mou Sugu Kiss Da yo (もうすぐkissだよ★)
23/04/2014 : Naite Tamaruka, Heart no Ohikkoshi (泣いてたまるか、ハートのお引越し)
20/08/2014 : Churun Churun ni Ki ga Tsuite (ちゅるんちゅるんに気がついて!)
18/03/2015 : Gangan Dance / Kimi no Tame ni… (ガンガン☆ダンス / 君のために…)
Best-of Albums
18/08/2013 : OS☆U Best vol.1
18/08/2013 : OS☆U Best vol.2
Mini-Albums
18/08/2013 : Present for You
Links
News