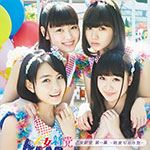 Otome Shinto's 1st album Otome Shinto Dai Ichi Maku ~Hajimari no Uta~ (乙女新党 第一幕 ~始まりのうた~) will be released on June 25.
Arakawa Chika and Aoi Wakana, who announced their graduation, are making their last appearance as members of Otome Shinto on this album. The unit is going to hold audition to recruit new girls.
Moreover, the trailer and a video message from the members of the idol group have been released.
The CD contains 11 songs including Otome Shinto's latest singles Mousou Koukan Nikki (もうそう★こうかんにっき), 2 Gakki Debut Daisakusen!! (2学期デビュー大作戦!!), Ojuken Rock'n'Roll (お受験ロッケンロール), Sakura Countdown (サクラカウントダウン), and new songs.
The limited edition includes a bonus DVD with footage from the concert Haru Da! 2 Gun no Spring Carnival 2014 ~"Hoba Chuugakusei" kara "Hoba Koukousei" e~ (春だ!2軍のスプリングカーニバル2014~"ほぼ中学生"から"ほぼ高校生"へ~) which was held on March 23 at Daikanyama Unit.
The album comes with a photo of the idol group randomly selected.
Furthermore, it was announced that Otome Shinto are going to recruit new members. Audition will be held in May.
Tracklist
CD

Otome Shinto no Uta (乙女新党のうた)
Otome no 365 Nichi (乙女の365日)
Mousou Koukan Nikki (もうそう★こうかんにっき)
Boku Dake no Sekai (ボクだけの世界)
2 Gakki Debut Daisakusen!! (2学期デビュー大作戦!!)
Tokimeki Paradox (ときめき☆パラドックス)
Wonderful Nyan Daho (わんだほーにゃんだほー)
Ojuken Rock 'n' Roll (お受験ロッケンロール)
Wasshoi Christmas (わっしょいクリスマス)
Sakura Countdown (サクラカウントダウン)
Hajimari no Uta (始まりのうた)
DVD (Limited Edition)

Haru Da! 2 Gun no Spring Carnival 2014 ~"Hoba Chuugakusei" kara "Hoba Koukousei" e~ (春だ!2軍のスプリングカーニバル2014~"ほぼ中学生"から"ほぼ高校生"へ~)

Mousou Koukan Nikki (もうそう★こうかんにっき)
Ojuken Rock 'n' Roll (お受験ロッケンロール)
Boku Dake no Sekai (ボクだけの世界)
Wasshoi Christmas (わっしょいクリスマス)
Wonderful Nyan Daho (わんだほーにゃんだほー)
2 Gakki Debut Daisakusen!! (2学期デビュー大作戦!!)
Tokimeki Paradox (ときめき☆パラドックス)
Sakura Countdown (サクラカウントダウン)
Otome Shinto no Uta (乙女新党のうた)
Video