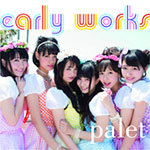 Palet's new album Early Works will be released on October 23.
As its title suggests, it is a best-of album featuring the greatest hits from Palet recorded during their indies era.
The CD contains 11 songs.
It comes with a DVD with 3 music videos.
Moreover, Palet's 1st major single Believe in Yourself! will be on sale on November 20.
Tracklist
CD

Fly Away
Shouri no Seal (勝利のシール)
Pink no Heart no Kumo (ピンクのハートの雲)
Mune no Botan (胸のボタン)
Ichigo Kibun (イチゴ気分)
Hashittemita (走ってみた。)
Celebration ~Tokimeki Good Time~ (Celebration~トキメキ Good Time~)
I Miss You
Nijiiro Horizon (滲色ホライズン)
Give You Love♡
Yubikiri
DVD

Mune no Botan (胸のボタン) (Music Video)
Shouri no Seal (勝利のシール) (Music Video)
Pink no Heart no Kumo (ピンクのハートの雲) (Music Video)