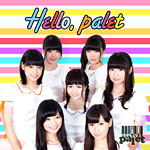 Palet's debut album Hello, Palet will be released on October 10.
This mini-album contains 7 tracks.
A commercial movie (CM) has been released.
Palet is a new idol group that started its activities in June 2012. It consists of 7 members. It is a sister unit of Passpo☆ managed by Platinum Records.
Tracklist
CD

Fly Away
Mune no Button (胸のボタン)
Nijiiro Horizon (滲色ホライズン)
Yubikiri
Hashittemita (走ってみた。)
I Miss You
Ichigo Kibun (イチゴ気分)
Video (CM)