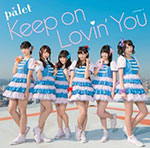 Palet's new single Keep on Lovin' You will be released on April 23.
This is the 2nd major single from Palet.
The MV has been released.
The lyrics of Keep on Lovin' You were written by Ijichi Hiromasa. The music was composed and arranged by Akutsu Kentaro.
The coupling song You Are my Miracle is the theme song for the anime Kobayashi ga Kawai Sugite Tsurai!! (小林が可愛すぎてツライっ!!).
3 versions are available. The tracklist is the same for each one of them.
The Type A edition includes a DVD with the music video and bonus footage. The details haven't been announced yet.
The Type B and C editions have different CD covers including one featuring the anime illustration of Palet's members.
All versions come with a trading card representing a member of the idol group randomly selected from 36 kinds.
Furthermore, Palet 2nd Anniversary Live will be held on June 8 at Shinjuku Blaze in Tokyo.
The idol group also gave live performances on February 9 to celebrate Hiraguchi Miyuki's birthday, and then on March 30 to celebrate Igusa Riona's birthday. These events took place at Shibuya Mt. Rainier Hall.
Tracklist
CD

Keep on Lovin' You
You Are my Miracle
Keep on Lovin' You (Instrumental)
You Are my Miracle
DVD (Type A)

Keep on Lovin' You (Music Video)
Bonus Footage
Music Video (PV)