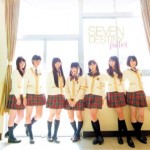 Palet's new album Seven Destiny will be released on March 6.
This is the 2nd mini-album from Palet. It contains 7 songs.
The MV has been released.
The song Shouri no Seal (勝利のシール) will be the theme song for the TV shows Guruguru Ninety-Nine (ぐるぐるナインティナイン) and Onryumon Baby Dragon's Gate (「音龍門」Baby Dragon's Gate) aired on Nippon Television (NTV).
Tracklist
Shouri no Seal (勝利のシール)
Celebration ~Tokimeki Good Time~ (Celebration~トキメキ Good Time~)
My First Lover (マイ・ファースト・ラヴァー)
Sugiteiku Subete ni (過ぎていく全てに)
Give You Love♡
Runner
Namida Hitotsubu (涙一粒)
Music Video (PV)