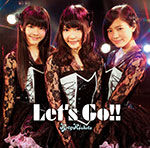 Party Rockets' new single Let's Go will be released on April 9.
This is the 4th single from Party Rockets. It was produced by Eric Martin, who is a former member of the rock band Mr. Big, and Hachimoto Keiichi.
The coupling song Dear Friend (ディアフレンド) was recorded with Watanabe Koume before that she left the idol group to join Super☆Girls.
The cover artwork was made by artists such as Makihara Noriyuki and Yusuke. It gives a rock style to the members of Party Rockets.
3 editions are available. The coupling track is different for each one of them. They are popular songs in the live performances of the idol unit.
The single comes with a photo randomly selected among 4 models.
Tracklist
Type A

Let's Go
Suki Sugite Ikiru no ga Tsurai yo (好きすぎて生きるのがツライよ)
Let's Go (Instrumental)
Suki Sugite Ikiru no ga Tsurai yo (好きすぎて生きるのがツライよ) (Instrumental)
Type B

Let's Go
Dear Friend (ディアフレンド)
Let's Go (Instrumental)
Dear Friend (ディアフレンド) (Instrumental)
Type C

Let's Go
Nichijou Dreamer (日常ドリーマー)
Let's Go (Instrumental)
Nichijou Dreamer (日常ドリーマー) (Instrumental)