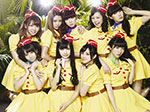 Passpo☆ Best Music Clips (ぱすぽ☆ベスト Music Clips) will be released on DVD on June 26.
As its title suggests, the DVD includes more than 7 music videos from the singles released by Passpo☆ since their major label debut.
As a bonus, it also contains live and backstage footage from Passpo☆ Charter Flight Tour 2013 (Passpo☆チャーター便フライトツアー2013) held nationwide in March.
Their upcoming single Truly will go on sale on the same date.
Tracklist
Shoujo Hikou (少女飛行)
ViVi Natsu (ViVi夏)
Kimi wa Boku wo Suki ni Narou (君は僕を好きになる)
Next Flight
Natsuzora Hanabi (夏空)
Wing
Love Diary