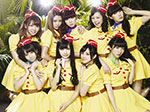 The concert tour Passpo☆ Charter Flight Tour in Summer Vacation!! (Passpo☆チャーター便フライトツアー in Summer Vacation!!) will be held from August 3 to 31.
The live performances will take place in Tokyo, Sendai, Niigata, Saitama, Nagoya, and Osaka.
To get a ticket for the event, you have to buy a limited edition of Passpo☆'s upcoming single Truly on Universal Music Store.
Schedule
03/08/2013 : Zepp Tokyo Diver City (13:00 / 18:30)
04/08/2013 : Sendai Rensa (17:30)
10/08/2013 : Niigata Lots (17:30)
11/08/2013 : Heaven's Rock Saitama Shintoshin (17:30)
23/08/2013 : Nagoya Ell (13:00 / 18:30)
31/08/2013 : Osaka Big Cat (13:00 / 18:30)