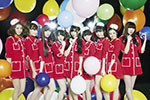 Passpo☆ will host a new regular variety show entitled Passpo☆ no Shaku Uma TV (Passpo☆の尺うまTV).
The program will start airing on April 6 (26:35 ~ 27:05). Then it will be broadcasted every Saturday on TV Tokyo.
Moreover, the 2 volumes of their best-of album Passpo☆ Best (ぱすぽ☆ ベスト) will be released on March 27.