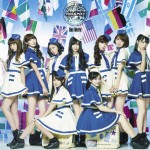 Passpo☆'s 2nd album One World will be released on November 14.
The CD contains their last singles and original songs.
The limited edition comes with a DVD featuring music videos and dance shot versions. It also includes a ticket for the live event Passpo☆ One World Fes. to be held on November 18 at Shinagawa Stellar Ball.
Economic Class Version (Regular Edition)
CD

Departure
Next Flight
Final Vision
Love Diary
Wing
Wanted!!
Natsuzora Hanabi (夏空Hanabi)
Kimi wa Boku wo Suki ni Naru (君は僕を好きになる)
2 Days
Tap My Toe
Pock☆Star
Pink no Parachute (ピンクのパラシュート)
君色のサンバ
With xxxx
Dear My Friend
First Class Version (Limited Edition)
CD

Departure
Next Flight
Final Vision
Love Diary
Wing
Wanted!!
Natsuzora Hanabi (夏空Hanabi)
Kimi wa Boku wo Suki ni Naru (君は僕を好きになる)
2 Days
Tap My Toe
Pock☆Star
Pink no Parachute (ピンクのパラシュート)
君色のサンバ
With xxxx
Dear My Friend
DVD

Kimi wa Boku wo Suki ni Naru (君は僕を好きになる) (Music Video)
Next Flight (Music Video)
Natsuzora Hanabi (夏空Hanabi) (Music Video)
Wing (Music Video)
Love Diary (Music Video)
Next Flight (Dance Shot Ver.)
Natsuzora Hanabi (夏空Hanabi) (Dance Shot Ver.)
Wing (Dance Shot Ver.)