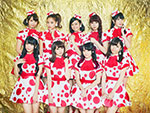 Passpo☆'s new album Tracks will be released on December 10th.
This best-of album includes the greatest hits of Passpo☆ since their major debut and a new song.
The MV and a video message by the members of the idol group has been unveiled.
A new version of Shoujo Hikou has been re-recorded to celebrate the 5th anniversary of their formation. However it is without Sakuma Kaho who left the unit since the original release of this song.
4 editions are available.
Furthermore, Okunaka Makoto is making her last appearance with Passpo☆ on this CD as she is going to graduate on January 1, 2015.
Tracklist
OPSE
Shoujo Hikou (少女飛行) (5th Anniversary ver.)
Suki = Kiss (キス=スキ)
ViVi Natsu (ViVi夏)
Next Flight
Wing
Natsuzora Hanabi (夏空Hanabi)
Kimi wa Boku wo Suki ni Naru (君は僕を好きになる)
Sakura Komachi (サクラ小町)
Step & Go
Mousou no Hawaii (妄想のハワイ)
Candy Room (キャンディー・ルーム)
Truly
Growing Up
Perfect Sky
Himawari 向日葵
Tracks
Kucha Love (くちゃLove)
「I」
With XXXX
Mudai (無題)
Material Girl (マテリアルGirl)
Music Video (PV)
Video Message