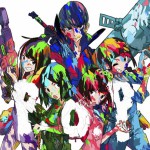 The new album of POP (Period Of Plastic 2 Mercy) entitled P.O.P was released on August 4.
This is the first EP of POP and its first CD after the departure of Mizuta Mari (ex-Iukoneko) and the addition of 4 new members.
It's also the first CD of POP after the name change of the group (previously known under the name Pla2me).
The tracklist was unveiled.
One edition only is available.
The CD contains 10 songs including the 2 first singles of the group as a musical duo (under the name Pla2me) : Plastic 2 Mercy and UNIT. These singles were re-recorded with the current members for this mini album.
Check out the album tracklist below!
Tracklist
Plastic 2 Mercy (POP ver.)
pretty pretty good
fly away
who am I?
UNIT (POP ver.)
NEON
Lonely lonely lonely
3rd FLOOR BOYFRIEND
Daydream
Letter