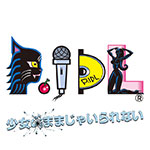 P.IDL's 1st single Shoujo no Mama Ja Irarenai (少女のままじゃいられない) will be released on May 7.
5 versions of the single are available, including one for each P.IDL team : P (pop), I (idol), D (dance), L (lady).
The MV and its dance version have been released.
The songs were produced, written and composed by Daisuke 'Dais' Miyachi.
The regular edition comes with a DVD featuring the music video, its dance version and bonus footage.
The coupling song is different for each team edition.
Tracklist
Regular Edition

CD

Shoujo no Mama Ja Irarenai (少女のままじゃいられない)
Shoujo no Mama Ja Irarenai (少女のままじゃいられない) (Instrumental)

DVD

Shoujo no Mama Ja Irarenai (少女のままじゃいられない) (Music Video)
Shoujo no Mama Ja Irarenai (少女のままじゃいられない) (Dance Version)
Bonus Footage (特典映像)
Type P

CD

Shoujo no Mama Ja Irarenai (少女のままじゃいられない)
Believe in Me
Shoujo no Mama Ja Irarenai (少女のままじゃいられない) (Instrumental)
Believe in Me (Instrumental)
Type I

CD

Shoujo no Mama Ja Irarenai (少女のままじゃいられない)
Omoide Falln' Love (想い出 Falln' Love)
Shoujo no Mama Ja Irarenai (少女のままじゃいられない) (Instrumental)
Omoide Falln' Love (想い出 Falln' Love) (Instrumental)
Type D

CD

Shoujo no Mama Ja Irarenai (少女のままじゃいられない)
Dance!
Shoujo no Mama Ja Irarenai (少女のままじゃいられない) (Instrumental)
Dance! (Instrumental)
Type L

CD

Shoujo no Mama Ja Irarenai (少女のままじゃいられない)
Shining Star
Shoujo no Mama Ja Irarenai (少女のままじゃいられない) (Instrumental)
Shining Star (Instrumental)
Music Video (PV)