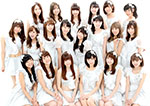 P.IDL is a Japanese idol group formed in February 2014.
The members are split into 4 teams : P (Pop), I (Idol), D (Dance), L (Lady).
The name of the unit is an abbreviation for Performance IDol League.
The concept is "working idols" as the members are also part-time workers at the P.IDL Cafe.
Ell Tia is from Canada.
Biography / History

22 girls passed the audition in February 2014. The selected applicants were between 14 and 24 years old.
P.IDL Cafe (カフェ) opened in March 2014 in Harajuku, Tokyo.
The idol group held its 1st live performance in April 2014 at Shibuya Public Hall, Tokyo.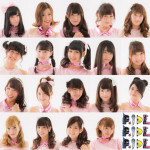 Their 1st single Shoujo no Mama Ja Irarenai (少女のままじゃいられない) was released in May 2014.
In October 2014, Team L's Sakino Yui was suspended due to a lack of motivation according to the staff.
Ando Kanna and Hirotsu Maki were promoted to Team D in late 2014.
Team I's single Teenage Blues (ティーンエイジ・ブルース) is the theme song for the anime file(N):project PQ. It was released in March 2015.
The girls appear on the Cheerz mobile app for smartphones since April 2015.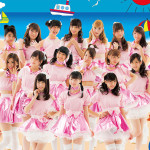 The single Natsu! (夏っ!) reached the 6th rank on the Oricon daily chart, and the 13th rank on the weekly chart in June 2015.
Sister group P.IDOL Nagoya was formed during the summer of 2015. Its members are mainly active in Kansai area.
Pro wrestler Tenzan Hiroyoshi brought his support to the idol group via a video message for their 1st album Mongolian Chop! (モンゴリア~ン チョップ!) on sale in November 2015.
P.IDL Nagoya's 1st single 3 2 1 Dream! Namida Farewell was released in November 2015.
The girls were starring in the stage play Stay with Me / Sweet Snow in November 2015.
The CD Bokura ni Ai wo Kudasai (僕らに愛をください), on sale in March 2016, celebrated the 2nd anniversary of the idol group.
Profile
P.IDL (Performance Idol League)
Years active : 2014 – present
Label : Formula
Agency : –
Members
Team P (Pop)
Iha Akiko (伊波亜希子)
Kaburagi Rina (鏑木梨奈)
Tanaka Ami (田中亜美)
Team I (Idol)
Abe Aimi (阿部アイミ)
Kunugi Maika (椚まいか)
Furutaka Ayano (古髙彩乃)
Miyazaki Nanami (宮崎七海)
Team D (Dance)
Ando Kanna (安堂栞那)
Ikeda Rino (池田梨乃)
Chiba Natsumi (千葉夏実)
Hirano Yuka (平野由佳)
Hirotsu Maki (廣津万記)
Team L (Lady)
Ell Tiana (エルティア)
Onuma Risa (小沼理砂)
Yasumori Ayana (安森彩那)
Akagi Sayaka (赤木 彩香)
SIS.P.I
Akaha Mihiro (赤羽美紘)
Kamata Manase (鎌田愛世)
Motoki Haruka (元木はるか)
P.IDL Nagoya
Kurihara Chiho (栗原知穂)
Nozawa Mariko (野澤方合子)
Sugiyama Haruka (杉山遥)
Yamamoto Rio (山本莉央)
Yamada Melissa (山田メリサ)
Kondo Kisara (近藤きさら)
Former Members
Kyui Misato (休井美郷)
Yanagimoto Emi (柳本絵美)
Nakajima Keika (中島恵香)
Tani Asako (谷亜沙子)
Hayashi Hikari (林ひかり)
Morita Saaya (森田爽亜矢)
Hisaishi Mone (久石百音)
Mizuno Marie (水野真莉絵)
Seno Manami (瀬乃愛美)
Ando Kanna (安堂栞那)
Yamamoto Sora (山本空)
Sugiyama Haruka (杉山遥)
Tachibana Chiko (立花ちこ)
Sakino Yui (咲野結)
Kajiki Yuria (加治木ゆりあ)
Totsuka Yoshimi (戸塚よしみ)
Toyooka Nagisa (豊岡渚)
Mizuno Marie (水野真莉絵)
Discography
Singles
07/05/2014 : Shoujo no Mama Ja Irarenai (少女のままじゃいられない)
06/08/2014 : Samishii Nettaigyo / Sansan Aibo (淋しい熱帯魚 / 燦燦愛慕)
24/12/2014 : Stay with Me
25/03/2015 : Teenage Blues (ティーンエイジ・ブルース) / Team I
03/06/2015 : Natsu! (夏っ!)
10/11/2015 : 3 2 1 Dream! Namida Farewell (3.2.1. ドリーム!/涙farewell) / P.IDL Nagoya
07/03/2016 : Bokura ni Ai wo Kudasai (僕らに愛をください)
Albums
04/11/2015 : Mongolian Chop! (モンゴリア~ン チョップ!)
Links
News