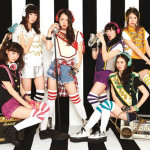 The disbandment of PiiiiiiiN was announced.
The news was made by the members on social networks and at their recent concert in Tokyo on March 15 (see photo). This sudden announcement took place after a period of silence of PiiiiiiiN. The idol group had just celebrated its 3rd anniversary last December.
PiiiiiiN member, Emiri, told about the group's situation on her blog where she explained that girls weren't able to to reach their dream of performing together at the famous Nippon Budokan. She also explained that each girl had different ambitions, which ultimately prompted the group to separate and announce their graduation.
In addition, Hara Ayano left the idol group a few months ago.
The date of the last concert and graduation of the members of PiiiiiiiN will take place in Tokyo · WWW X on next May 5.