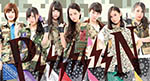 PiiiiiiiN is a Japanese idol group formed in December 2013.
It currently consists of 7 members.
PiiiiiiiN is a sister group of PPP! PiXiON.
Biography / History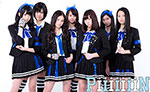 The concept of the idol unit is "theme park (テーマパーク)". The idea is that, during a live performance, the fans can feel various emotions like when they go to an amusement park with their family, their friends, or the person they are in love with. So, PiiiiiiN try to combine various sides of entertainment.
The members have a cool, youth and rock image.
The name PiiiiiiiN stands for "delivering a cool love to everyone".
Their 1st song Kaien Dash (開園Dash) was released in April 2014.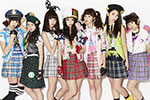 Hoshino Nina withdrew from the idol group in January 2015 because she wanted to pursue her career an actress.
PiiiiiiiN members appear on the Cheerz mobile app for smartphones since the spring of 2015.
The song Bring It On, released in June 2015, was their first one to have a music video.
The idol group held its 1st one-man live in May 2015 in Tokyo.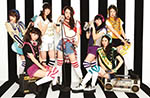 BiS and BiSH producer Matsukuma Kenta wrote some songs for PiiiiiiiN in June 2015.
PiiiiiiiN 1st Japan Live Tour was held from September to October 2015.
The members opened private Twitter accounts in February 2016.
Road to Zepp DiverCity live tour was held during 3 consecutive months between March and May 2016.
PiiiiiiiN will give a concert at Zepp DiverCity, Tokyo, in December 2016. This event will celebrate the 3rd anniversary of the idol group.
Profile
PiiiiiiiN (ピーン)
Years active : 2013 – present
Label : –
Agency : New Style Production
Members
Suga Emiri (菅えみり)
Hara Ayano (原あやの)
Saito Runa (斎藤るな)
Kubomura Rizu (久保村りず)
Shimomitsu Riko (下光りこ)
Kamino Ami (神能あみ)
Tsubone Arisa (坪根ありさ)
Former Members
Discography
Songs
23/04/2014 : Kaien Dash (開園Dash)
29/06/2014 : Bokura no Basho (僕らの場所)
08/10/2014 : Mirai Chizu (ミライチズ)
22/10/2014 : Onegai! Kami-sama (

おねがい!神様

)
Kimi Iro no Prism (きみ色のプリズム)
Susume! Glory Days!! (ススメ!Glory Days!!)
Ready Go for it~いつでも心にI Love meを~
Teardrop (ティアドロップ)
Bring It On!!!
Zettai Never Die (絶対Never Die)
Terechau ne (てれちゃうね。)
Kakusei (カクセイ)
Suki Dakara Muka Tsukunda (好きだからムカつくんだ)
NDNL
Himitsu no Takara Bako (ヒミツの宝箱)
Burnin' Up Soul
Never-Never Land
Traumerei ni Sayonara (トロイメライにさよなら)
Shiny Days
Singles
Albums
Links
News