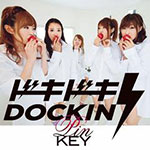 Pinkey's new single Doki Doki Dockin' (ドキドキDockin') will be released on May 1.
This is the 2nd single from Pinkey. Only one edition is available.
The MV has been released.
The CD contains 3 songs and their instrumental versions. It also includes 3 talks between the members of the idol group.
In addition, the event Pinkey to "Gyutto Pashatto Matsuri" 'Pinkeyと"ギュッとパシャッと祭り") will be held on May 12 at Tower Record Shibuya in Tokyo.
Tracklist
Cherry Viewooooon
Talk 1
Doki Doki Dockin' (ドキドキDockin')
Talk 2
Setsunasa to Heikousen (切なさと平行線)
Talk 3
Cherry Viewooooon (Karaoke)
Doki Doki Dockin' (ドキドキDockin') (Karaoke)
Setsunasa to Heikousen (切なさと平行線) (Karaoke)
Music Video (PV)