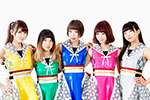 POP (Period Of Plastic 2 Mercy) announced that they had changed their name for GANG PARADE in order to celebrate their 2nd anniversary.
The members explained that the idol group changed the name of the group because they want to start a new chapter.
The group was already renamed in June 2015 and was originally called Pla2me, and included originally only 2 members before the arrival of new members..
The release of its new single under this new name entitled WE ARE the IDOL will be on July 19.
To commemorate this release, the unit will perform at Shibuya WWW the previous day in Tokyo.
The group will be also present at Tokyo Idol Festival 2016 in August.