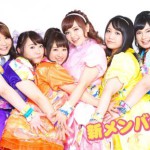 Pottya is a Japanese idol group formed in late 2014.
It currently consists of 5 members. Each one has been assigned a color.
The concept is to encourage chubby girls to fulfill their dreams as idols.
The leader is Oki Risa.
Biography / History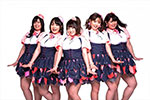 A total of 2,141 girls participated in the audition held in October 2014.
The 5 original membres of Pottya were Oki Risa, Indo Maiko, Ohashi Michiko, Yokokawa Mai et Tsukada Emi.
The girls had an average weight of 76 kg (167,2 lbs) and a combined weight of 380kg.
Pottya are produced Kobayashi Takeo who had worked with artists such as Ebisu Muscats (恵比寿マスカッツ) in the past.
They made their debut with the digital single Po・Po・Po・Pocha Rinko☆ (ポ・ポ・ポ・ポチャりん子☆) released in January 2015.
They held their 1st live performance in January 2015.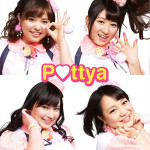 Pottya released their 1st CD single which includes their debut song and new one titled Bye Bye Kataomoi (バイバイ片想い) in April 2015.
Tsukada Emi withdrew in July 2015. As a result, the staff announced that auditions were going to be held in order to recruit new members.
Takahashi Yuka and Hashimoto Inori joined the idol group in November 2015.
In February 2016, it was announced that Takahashi Yuka had quit Pottya because she had committed a serious breach of contract.
Profile
Pottya (ポッチャ)
Years active : 2014 – present
Label : For Life Music Entertainment
Agency : –
Members
Oki Risa (大木梨渚) – Orange
Indo Maiko (犬童舞子) – Pink
Ohashi Michiko (大橋ミチ子) – Blue
Yokokawa Mai (横川麻衣) – Yellow
Hashimoto Inori (橋本一愛) – Purple
Former members
Tsukada Emi (塚田恵未)
Takahashi Yuka (高橋祐香) – Green
Discography
Singles
29/04/2015 : Po・Po・Po・Pocha Rinko☆ / Bye Bye Kataomoi (ポ・ポ・ポ・ポチャリン子☆ / バイバイ片想い)
Digital Singles
28/01/2015 : Po・Po・Po・Pocha Rinko☆ (ポ・ポ・ポ・ポチャりん子☆)
10/03/2015 : Bye Bye Kataomoi (バイバイ片想い)
Albums
Links
News