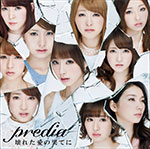 Predia's new single Kowareta Ai no Hate ni (壊れた愛の果てに) will be released on August 6.
This is the major debut single from Predia.
3 editions are available. The track listing is the same for each one of them.
Type A and B editions come with a bonus DVD featuring either the MV or making-of footage and an interview with the members of the idol group.
Moreover, Predia will hold handshake events, signing and photo sessions with fans to promote this single.
Tracklist
CD

Kowareta Ai no Hate ni (壊れた愛の果てに)
Boukyaku no Cinderella (忘却のシンデレラ)
Kowareta Ai no Hate ni (壊れた愛の果てに) (Instrumental)
Boukyaku no Cinderella (忘却のシンデレラ ) (Instrumental)
DVD (Type A)

Kowareta Ai no Hate ni (壊れた愛の果てに) (Music Video)
DVD (Type B)

Kowareta Ai no Hate ni (壊れた愛の果てに) (Making-of & Interview)