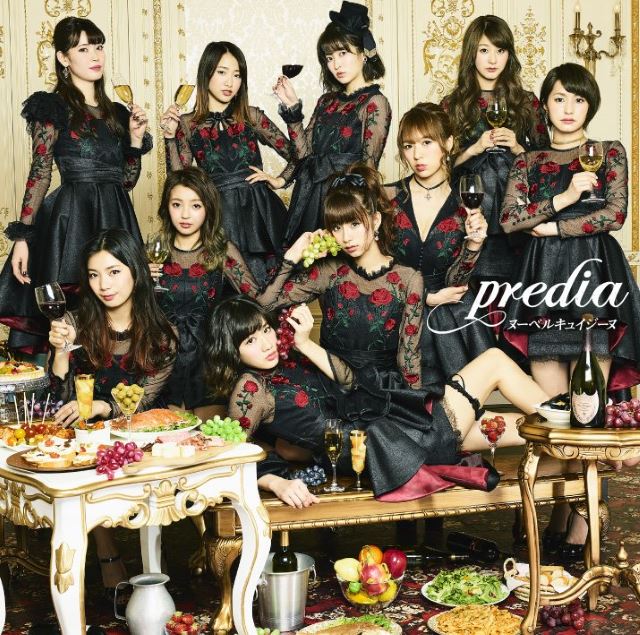 Predia will release their new single Nouvelle Cuisine (ヌーベルキュイジーヌ) on June 20.
This is the 6th single of Predia.
Discover out the music video below!
In the MV, the 10 Predia members sing and dance and, to their habit, adds more sensuality by eating fruits as well as with a woman silhouette with a bare body.
The girls, which dropped the usual red-colored outfits, wears sexy black and red dresses.
The song Nouvelle Cuisine was selected for next June to be the new theme song of the late night progamm Uchi no Gaya ga Sumimasen broadcast on NTV.
3 versions of the single will be available. The CDs are different depending on the edition.
Tracklist
Type A

CD

Nouvelle Cuisine (ヌーベルキュイジーヌ)
Satin Doll wa Kataranai (サテンドールは語らない)
Paradise
Nouvelle Cuisine (instrumental)
Satin Doll wa Kataranai (instrumental)
Paradise (instrumental)

DVD

Nouvelle Cuisine (Music Video)
Type B

CD

Nouvelle Cuisine (ヌーベルキュイジーヌ)
Satin Doll wa Kataranai (サテンドールは語らない)
Nouvelle Cuisine (instrumental)
Satin Doll wa Kataranai (instrumental)
Type C

CD

Nouvelle Cuisine (ヌーベルキュイジーヌ)
Paradise
Nouvelle Cuisine (instrumental)
Paradise (instrumental)
Music Video (PV)