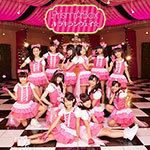 Prism Box new single Kiraki Runway (キラキランウェイ☆) will be released on November 26th.
Prism Box is a special idol group consisting of members from Prizmmy☆ and Prism Mates.
The MV and its dance master version have been released.
The members of Prism Box are wearing kawaii pink outfits.
It is the ending theme song for the anime PriPara (プリパラ).
Only one edition is available.
It includes a bonus DVD with different versions of the music video.
Furthermore, Prizmmy☆'s latest single Jumpin'! Dancin'! is on sale since September 17th.
Tracklist
CD

Kiraki Runway (キラキランウェイ☆)
Zutto mo! Zoo (ずっとも!Zoo)
Kiraki Runway (Instrumental)
Zutto mo! Zoo (Instrumental)

DVD

Kiraki Runway (Music Video)
Kiraki Runway (Dance Master ver.)
Kiraki Runway (TV-size ver.)
Music Video (PV)