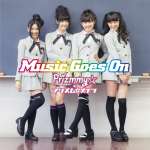 Prizmmy☆ and Prism Mates will release the album Music Goes On on June 25.
The album contains 11 songs including the latest singles from Prizmmy☆ and Prism Mates.
Music Goes On includes the theme songs for the anime Pretty Rhythm: Rainbow Live (プリティーリズム・レインボーライブ) airing on TX Network (TV Tokyo…).
The limited edition comes with a bonus DVD featuring a video of the concert 1st Take! Pretty Rhythm Rainbow Live in Christmas 2013 (『1st Take!』『プリティーリズム・レインボーライブ Live in クリスマス2013』ダイジェスト映像!).
Tracklist
CD

Boy Meets Girl
EZ Do Dance
RainBow × RainBow
Dancing Doctor
Glory Days
Pojikaru World (ポジカルワールド)
Chocolate Paradise (チョコレートパラダイス)
Happy Star Restaurant (ハッピースター☆レストラン)
Crazy Gonna Crazy
Butterfly Effect
Brand New World!! -Summer Remix-
DVD

1st Take! Pretty Rhythm Rainbow Live in Christmas 2013 (『1st Take!』『プリティーリズム・レインボーライブ Live in クリスマス2013』ダイジェスト映像!)