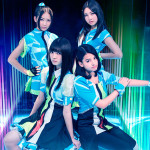 Prizmmy☆ is a Japanese idol group formed in January 2012 and produced by Avex.
It currently consists of 4 members.
The leader is Kubo Reina.
Biography / History
Prizmmy☆ is sister group of Prism☆Mates (プリズム☆メイツ). They formed together a special unit named Prism☆Box.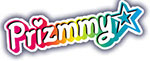 Kusukabe Mia, Kubo Reina and Takahashi Karin are former members of Roni Girls and Dance Style Kids (ダンス・スタイル・キッズ).
Takahashi Karin is the older sister of Prism☆Mates' Takahashi Mirei.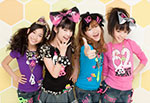 Sema Ayami won a prize at Avex Kids Project Kiratto Entertainment Challenge Contest 2011 Summer (avex kids Project キラット☆エンタメ チャレンジ・コンテスト2011 Summer) and joined the 3 other girls just before the creation of the idol unit.
Prizmmy☆ performed the theme songs for the anime series Pretty Rhythm Aurora Dream (プリティーリズム・オーロラドリーム), Pretty Rhythm Dear My Future (プリティーリズム・ディアマイフューチャー) and Pretty Rhythm All Star Selection (プリティーリズム・オールスターセレクション). The members are also fictionalized in the anime.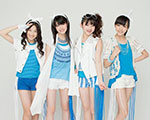 Prizmmy☆ released their debut single Everybody's Gonna Be Happy in March 2012.
The idol group performed at Cool Japan Festival in Mumbai, India, in January 2014.
Sema Ayami graduated in late March 2014.
She was replaced by Prism☆Mates' Miyazaki Hina in early April 2014.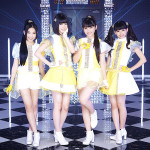 Prizmmy☆ songs Jumpin'! Dancin'!, I Just Wanna Be with You ~Virtual to Real no Hazama de~ (~仮想(ヴァーチャル)と真実(リアル)の狭間で~) and Love Trooper are the ending theme songs for the anime PriPara (プリパラ, Prism Paradise)
Their mini-album Love Trooper, on sale in February 2016, is produced by Hachioji P. It features the songs Kyurai Kyururira (きゅらりきゅるりら) performed by Mia and Hina, and Zenshin Zenrei Go my Way!! (全身全霊ゴーマイウェイ!!) by Prism☆Mates.
Profile
Prizmmy☆ (プリズミー)
Years active : 2012 – present
Label : Avex Entertanment
Agency : Avex Pro Works
Members
Kusukabe Mia (日下部美愛)
Kubo Reina (久保玲奈)
Takahashi Karin (高橋果鈴)
Miyazaki Hina (宮崎妃夏)
Former Members
Discography
Singles
16/03/2012 : Everybody's Gonna Be Happy
25/04/2012 : Dear my Future ~Mirai no Juban e~ (Dear my Future ~未来の自分へ~)
25/04/2012 : My Transform
29/08/2012 : Brand New World!
21/11/2012 : Body Rock
20/02/2013 : Pump It Up! (パンピナッ!, Panpina!)
22/05/2013 : Boy Meets Girl
24/07/2013 : EZ Do Dance
30/10/2013 : Crazy Gonna Crazy
05/02/2014 : Butterfly Effect
17/09/2014 : Jumpin'! Dancin'!
18/02/2015 : I Just Wanna Be with You ~Virtual to Real no Hazama de~ (~仮想(ヴァーチャル)と真実(リアル)の狭間で~)
Other Singles
24/04/2013 : RainBow × RainBow (Prism☆Box)
26/02/2014 : Happy Star Restaurant (ハッピースター☆レストラン) (Prism☆Box)
Mini-Albums
24/02/2016 : Love Trooper
Albums
24/07/2013 : Take Off
25/06/2014 : Music Goes On
Links
News