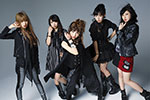 Q'ulle's 1st album Q' & A ~Q'ulle & Answer~ will be released on June 24.
This album contains 12 tracks including the idol group's latest singles mic check one two, Monster, Heartbeat, and 2 new songs Deep Drive and Reason.
Q'ulle consists of former Danceroid members Ikura, Yuzuki, Maam, Manako and Yakko.
Check out the music videos.
The songs were written and composed by the sound producer Deco*27.
The limited edition includes a bonus DVD. Its content hasn't been revealed yet.
Moreover, Q'ulle Live Tour Kimi no Kotae wa… ? (君の答えは…?) will be held from June 21 to July 26. Concerts are scheduled in Fukuoka, Nagoya, Sapporo, Osaka, Sendai and Tokyo.
A special website has been opened.
Tracklist
CD

mic check one two
MONSTER
NOT
Deep Drive
Do Say
HEARTBEAT
P
Dolo Dolo
Chain
ONI
F(i)ve
Reason(新曲)
Music Videos (PV)